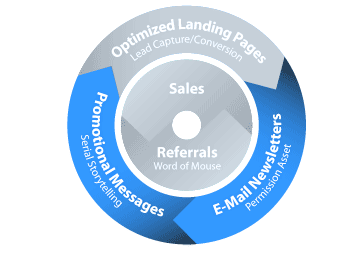 Enhancing your marketing database
with serial storytelling.

To capture leads via a landing page, you must provide compensation. Of the many things you can give away in exchange for contact information, an e-mail newsletter with editorial content works best because it enables you to contact existing and prospective customers on a regular basis.

In fact, the more editorial content you provide in your e-mail newsletter, the more often you can contact subscribers with standalone promotional e-mail messages. This phenomenon, which we call "serial storytelling," transforms your e-mail newsletter list into a "permission asset"—a powerful marketing database conducive to high frequency mailings.

This approach looks great on paper, but because most companies are not media companies, they often lack the resources to publish an editorial newsletter on a regular basis. This lack of internal resources creates a situation ripe for outsourcing.

Fortunately, we can help. We began our existence as an e-mail newsletter publisher. Creating e-mail newsletters with compelling content remains a core competency of ours. Over the years, we have developed a brainstorming process designed to get a newsletter up and running in short order. Best of all, we offer our brainstorming sessions free of charge.