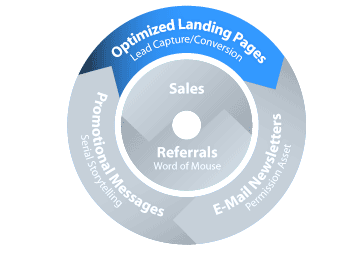 Converting clicks into leads, sales, and referrals.



E-mail and search engine advertisements generate "click-throughs"—visits to your Web site. By themselves, click-throughs don't have much value. However, with an optimized "landing page," you can convert these clicks into something valuable, such as leads, sales, and referrals.

A landing page is a special Web page on which prospects land when they respond to an online ad. Well-designed landing pages usually have just one function. For example, many landing pages try to persuade visitors to fill out a form, usually in exchange for something of value (e.g., an e-mail newsletter, a white paper, or even merchandise in the case of a transaction).

Landing pages operate on the principle that most people do not have much patience when visiting Web sites. If they don't see an obvious way to get from here to there, they will leave your site. By creating a persuasively designed landing page with a prominent call to action, conversion rates dramatically improve.

As you can surmise by the name of our agency—LandingPage Interactive—we believe that landing pages play a central role in online marketing. More than any other agency, we know how to design optimized landing pages and even entire Web sites that convert clicks into leads, sales, and referrals.